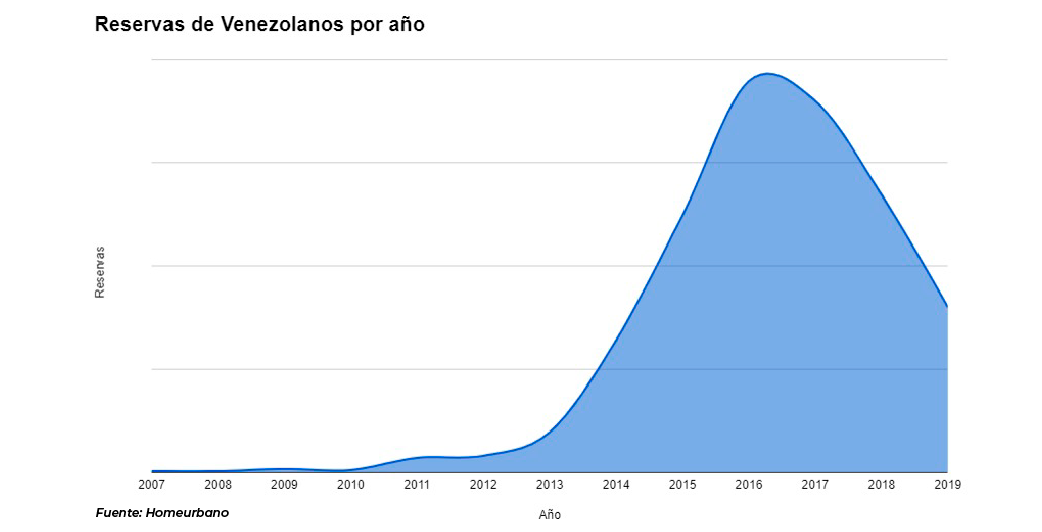 What happened to the Venezuelan migration in Santiago of Chile?
This post is also available in: Español Portugués
In the last decade, there has been a noticeable increase in Venezuelan migration to Santiago of Chile, motivated by the social and economic crisis facing Venezuela. According to the human rights office of the ONU, since 2018, more than 4 million Venezuelans have left their country. Chile has become the third destination preferred by migrants, after Colombia and Peru.
However, since last year, everything changed, with a drastic drop in Venezuelan migration.
According to reports prepared by Homeurbano, a company specialized in rental of furnished apartments to foreigners, the peak of Venezuelan accommodation reservations was in 2016 and 2017, that is, it increased exponentially in relation to previous years.
Consulted users of the company, point out that some factors that would lead to the decrease would be the new democratic responsibility VISA (VRD) that is requested in Chile, which grants a residence permit for 1 year with formal work permit, but the documentation that must be gathered as simple as it may seem, in Venezuela for many it is almost impossible. Another factor is that several of the people who are arriving in the last year, make their trips by land from Venezuela to Chile and have a lower purchasing power, therefore, they look for cheaper accommodations or stay with friends or family.
Indeed, the Homeurbano.com team points out that the first groups of migrants, especially those arriving in 2014 and 2015, were in large numbers professionals in the area of information and health, for whom it was usual a few days after arriving in the country, find well paid jobs.
From the company they point out that they continue to simplify the processes to rent furnished apartments; "The majority of the owners - with few exceptions - agree to lease foreign newcomers to the country by presenting their passport and letter of students when applicable, that is, they do not require, as in the traditional market, to accredit 1 year of work seniority, present guarantees, or other similar requirements" says Fernando Murillo, manager of the company, and adds that clients usually respond in an excellent way with their payment commitments and care of accommodation.